Tree Care Service Areas Across San Francisco
Maintenance and Tree Wellness Programs by ISA-Certified Arborists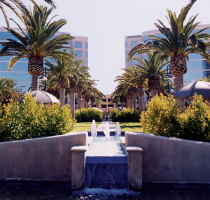 When you need professional care for your commercial landscape, you can depend on our San Francisco area tree service crew to keep your property well-maintained. Our ISA-Certified arborists have the expertise and resources to care for the trees at your place of business, school, college campus, government complex, or HOA property. While we provide routine maintenance services, we also work with you to tailor a tree wellness plan to support the health of your oaks, bay laurels, willows, California buckeyes, and other trees. Our teams maintain hundreds of properties throughout our tree care service areas in San Francisco.
San Francisco enjoys a remarkably mild year-round climate supported by the Pacific Ocean's cool currents to the west and the Bay waters to the north and east. Its location encourages different microclimates, so the Sunset District can experience a freezing and windy day, while the east side of the city enjoys the warmth of the sun. Home of the Golden Gate Bridge and a delightfully interesting Chinatown, it is one of the most walkable cities and has a plethora of city parks to enjoy. Because of its variety of microclimates, there is not the same lush native tree canopy as in other areas of California. However, many residents of the City by the Bay import tree species that do well here.
San Francisco leads the way in water conservation. Growing native plants helps your San Francisco commercial property conserve water. These plants require fewer fertilizers and pesticides, and help keep the air cleaner. Local wildlife benefits from access to food and shelter.
Our Tree Care Services for San Francisco Commercial Properties Include:
Custom tree wellness plans: Are you noticing holes in the bark of your oaks? Call our skilled San Francisco arborists to inspect your trees. We will diagnose the problem and create a tailored service plan to nurse your trees back to health.
Tree planting: When it's time for a property landscape makeover, our crew will help you choose the best trees and the best locations.
Adept tree removing service: Have your trees grown out of control and threaten to damage buildings, power lines, even people? We have the required equipment, training, and experience for safe tree removal.
Arborist consultations: Looking for a way to be proactive in your property's tree care while staying within budget? Arborwell offers multi-year budget and management plans that help reduce expensive and unexpected emergency calls.
Affordable storm cleanup warranty: Storm cleanup can drain your tree maintenance budget. Our unique treeShield® warranty can help you keep storm cleanup costs to a minimum. We respect the importance of trees and will only cut down what cannot be saved. Our Tree Care Industry Association (TCIA) certified company also provides a 24/7 emergency tree service.
Our tree care services in San Francisco cover:
| | | | |
| --- | --- | --- | --- |
| San Francisco | Napa Valley | Hayward | |
| Gilroy | San Mateo | San Carlos | |
| San Jose | Walnut Creek | Burlingame | |
| Palo Alto | Redwood City | | |
| | | | |
Phone to learn more about our tree care service areas in San Francisco or schedule an appointment online.